Title: It's Not a Fashion Statement, It's a Deathwish
Fandom: The Hunger Games
Subject: Cinna
Notes: FIRST OF ALL, no, this has nothing to do with the MCR song. I just thought the phrase was really, REALLY appropriate for the situation.
Somehow, this guy became my favorite character, and I don't think he gets nearly enough love, so I made him a mix. Possibly vaguely spoilery?? Meh not really.
Hopefully more THG mixes on the way, so be on the lookout c: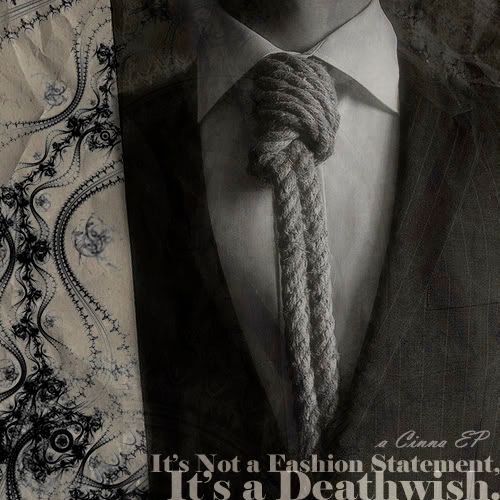 IT'S NOT A FASHION STATEMENT
,
IT'S A DEATHWISH
.
(a Cinna EP)

one. NOBODY KNOWS ME AT ALL the weepies
i know how you feel.
no secrets to reveal.
nobody knows me at all.
"
I had expected someone flamboyant, someone older trying desperately to look young, someone who viewed me as a piece of meat to be prepared for a platter. Cinna has met none of these expectations.
"

two. WE ARE ana johnsson
you keep watchin' from your picket fence.
you keep talkin' but it makes no sense.
you say we're not responsible, but we are.
"
I look up and find Cinna's eyes trained on mine. 'How despicable we must seem to you,' he says.
"

three. STRUT adam lambert
i wanna start a revolution.
a type of personal solution.
we all have got our own pollution.
it's all about the execution.

feel the fire within.
i wanna see you strut, strut,
come on, walk for me.
"
It crosses my mind that Cinna's calm and normal demeanor masks a complete madman.
'I want the audience to recognize you when you're in the arena,' says Cinna dreamily. 'Katniss, the girl who was on fire.'
"

four. I WAS A TEENAGE ANARCHIST against me!
do you remember
when you were young
and you wanted to set the world on fire?
"
'Whose idea was the hand holding?' asks Haymitch.
'Cinna's,' says Portia.
'Just the perfect touch of rebellion,' says Haymitch. 'Very nice.'
"

five. JERSEY mayday parade
and you threw a spark that lit the candle
that set us all on fire,
and sent a flame down the east coast.
"
Cinna puts his arm around my shoulder and leads me into lunch. 'Don't worry. I always channel my emotions into my work. That way I don't hurt anyone but myself.'
"

six. HANDS IN THE SKY (BIG SHOT) straylight run
i wonder when they'll come get me.

big shot screaming,
"put your hands in the sky,"
he says, "give it up, boy,
give it up or you're gonna die."
"
The Peacekeepers ignore me completely as they drag Cinna's limp body from the room. All that's left are the smears of blood on the floor.
"


seven. GRENADE JUMPER fall out boy
hey chris,
you were our only friend,
and i know this is belated,
but we love you back.
"
On the final page, under a sketch of my mockingjay pin, Cinna's written, I'm still betting on you.
"
preview on grooveshark
download zip.
(xx=tt)
Jesus, these things are a bitch to put together on the rich text editor. Must relearn how to html.
Also, thanx to
mrsparkleson who spawned this by recommending the Adam Lambert song for Cinna.
Comments are love~!

Current Music: Sing - My Chemical Romance